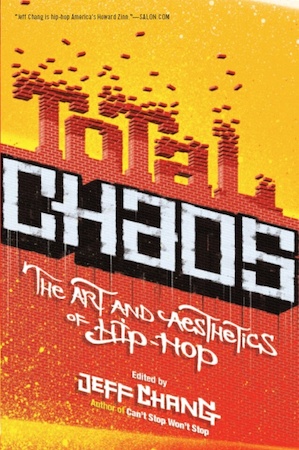 "Trapped In Between The Lines: The Aesthetics of Hip-Hop Journalism." Total Chaos: The Art and Aesthetics of Hip-Hop. Edited by Jeff Chang. New York: Basic Civitas. 2007: 165-174.
Anthology essay (solicited, editor-reviewed).
Traces the history and evolution of hip-hop journalism/criticsm from the early 1980s through present day. Looks at the relevance of publications such as The Village Voice, Source, XXL, ego trip and modern blogging.
Background: This essay explores how hip-hop journalism has changed over the course of over 20 years. I sifted through magazine back issues as well as drawing upon my own background in the field from the mid-1990s forward. Ironically, while this essay was being written at a time where many of my colleagues knew that the internet was changing the infrastructure of the journalism industry, it didn't come out until such a time where that industry was collapsing at a perilous rate. It says much that for an essay published in 2007, what I describe feels downright anachronistic just two years later when the landscape has been so brutally transformed.